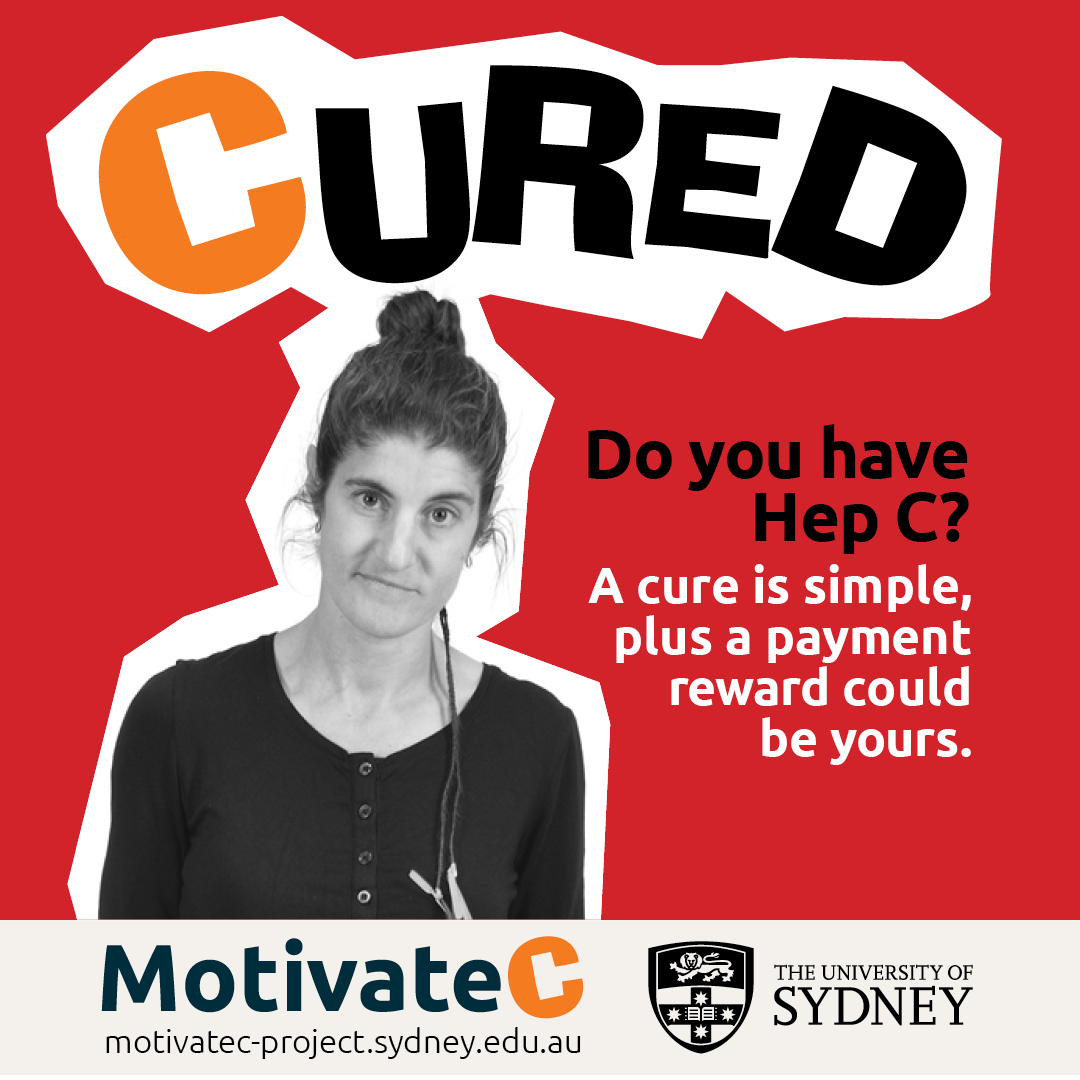 Summary
Motivate C aims to find out if an offer of a cash reward will encourage people with hepatitis C (hep C) to seek hep C treatment by community treatment providers.
Background
You can take tablet treatments to cure your hep C infection. These treatments are safe, very effective in curing hep c and are simple to take, requiring as little as one to three tablets a day. The tablets have been available for several years in Australia and are available at a low cost for people who have a Medicare card. However, over half of people living with hep C infection are yet to be treated.
This project aims to find out how to encourage as many people as possible to have hep C treatment.
Cash rewards
Vouchers and cash payments have already been used effectively to reward or encourage some health behaviours, like giving up smoking. In this project, we aim to assess if the offer of a cash reward increases uptake of hep C treatment among people with untreated
hep C. To work out what dollar values of the cash reward work, the value of the reward offered will vary for different participants.
The value of the reward offered to each participant will be determined at random (i.e., the reward amounts will be assigned chance using an allocation algorithm). Some participants may only be offered cash compensation for their time, with no additional reward for commencing therapy.
It should be noted that, as the data accumulates, the allocation algorithm will give priority to selecting cash reward amounts that the data strongly suggests will increase the probability of treatment initiation relative to no reward.
Ethics Approval
The Sydney Local Health District Human Research Ethics Committee (2022/ETH01681) has reviewed the ethical aspects of this project and have approved it.
Collaborations
The University of Sydney is leading the national Motivate C project (The Methodical evaluation and Optimisation of Targeted IncentiVes for Accessing Treatment of Early- stage hepatitis C – Motivate C) in collaboration with researchers, healthcare providers and GP experts within the hepatitis C field.
Funding
Funding for the project is provided by the Australian Government's Medical Research Future Fund.
Start living a Hep C free life today
Start living a Hep C free life today